Description
EpiShield Plus™ is the most up to date immune-supporting formula designed to target the core-immunity building blocks, IgA…
It's designed to give you a more robust immune system, strong nasal and respiratory support30, while giving you the freedom to live your life!
EpiShield Plus™ is manufactured in a GMP certified and FDA-inspected facility right here in the US.
This means that every single capsule of EpiShield Plus™ is made safely to the highest of standards.
In 15-seconds a day, you can start to boost your body's natural "immunity-barrier…"
In 15-seconds a Day, you Can Start to Boost your Body's Natural "Immunity-Barrier…"
Now… Before you claim your personal supply of EpiShield Plus™…
What's the first thing you're going to do when you're not fighting the occasional sore throat and stuffy nose 31?
Will you take a bike ride and enjoy the breeze?
Will you visit your friends and family without worry?
Or will you simply breathe a sigh of relief because you're doing everything possible for your health.
Whatever you choose to do, make it count.
For me, it's helping people like Brian stay healthy so they can be with the ones they love… as long as possible.
And you've seen how immunoglobulin A or IgA is the immune system's first line of defense — because it's the major building block of where your immune system STARTS… the gut-lining.
Interestingly, newborn babies' entire body is protected by IgA within minutes of birth, through their Mother's Milk.
It's Nature's Original Shield Against Harmful Substances.
And now research confirms how critical healthy IgA levels are for building and maintaining a strong, immune-system supporting gut-barrier.
Until now there's been nothing out there designed to support healthy IgA levels.
But today you know there is a brand-new way… an easy, 15-second solution that helps fortify this vital immunity shield.
As I mentioned earlier, research shows the ingredients in EpiShield Plus™ work for just about anyone who tries it…
And it makes sense since the original factory 'accident' was full of people from all walks of life.
Remember…
Men and women of all ages reported almost ZERO sick days…
So if you tend to get sick a couple of times a year… or nurse a cold here and there… or if your sinuses occasionally get clogged at night…
Or if you are a bit more cautious and want to give your immune system ALL the support it needs…
And because your entire body benefits when your immune system is healthy.
Let Me Share How You Can Get This Revolutionary Formula for Yourself…
And how you can be among the thousands who've already qualified to experience "life-changing" results.
Here's some great news:
Because you've proven your commitment to supporting your immunity-barrier by reading this far, I've persuaded my team at Simple Promise to reserve the next batch for readers of this article.
So, today, you're in luck, because if order options are still available on this page it means we have bottles left!
But you must act before they run out of stock.
EpiShield Plus™ is so Powerful and So Effective That Word Has Already Gotten Out…
Men and women are discovering this incredible formula for themselves…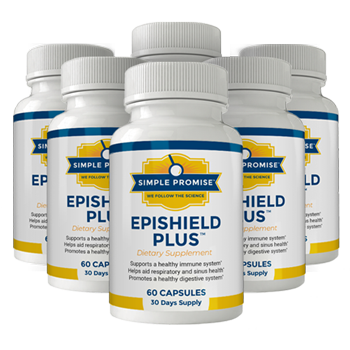 And
 they're ordering 6 or more bottles at time…
That way they don't just feel better in the short-term…
But they keep their body's immunity-barrier strong and available month-after-month-after-month.
No matter what happens in the world.
It sounds kind of crazy…
But it makes sense…
Especially because there is just so much research showing that when it comes to the ingredients inside EpiShield Plus™…
The longer you use them…
The stronger of an 'immunity barrier' they can support.
But of course with so many smart women and men choosing to order multiple bottles of EpiShield Plus™ at a time…
This often means that demand sometimes outpaces supply…
And Simple Promise™ is Always at Risk of Running Out of Bottles…
This means good men and women are forced to wait up to three months until the next batch is produced.
I'd hate for that to happen…
Imagine finally being able to be close to the people you love, worrying less about catching everything going around…
Imagine you start to notice changes…
Imagine if your sinuses start to feel more clear…
Or your breathing becomes a bit easier…